Update Your Car's Interior Lights
If you are looking to improve the appearance of your interior in a simple way, consider adding to car interior lights. The type of lighting that your bulbs cast on your interior can make a huge difference in how your seats and dashboard look.
Types Of Car Interior Lights
When looking at your vehicle's interior lights, you may be surprised to learn about the number of potential lighting locations. Below, we have listed the most popular car interior lighting options.
Door Lights.

Door lights are technically an

exterior car light

 but reside in the interior.

Many cars come stocked with door lights, also known as puddle lights, to illuminate the area underneath the door for aesthetics and safety.

Along with practical benefits, these lights are a popular customization option.

They can be modified to project different designs, such as your car's logo.

Dome Lights.

LED dome lights are a great way to show off your interior in low-light situations.

Since these lights turn on when the doors are open, they are responsible for illuminating your interior to any occupants entering your car for the first time.

Ambient Lights. Ambient lighting in cars has no strict definition. They don't have a designated location. As the name implies, these lights provide subtle ambient lighting to your vehicle. Many manufacturers have started incorporating colored ambient lights along their dashboards, door sills, and even under the seats. This effect can be replicated through LED light strips for cars.
Trunk Lights.

Upgrading to an LED trunk light can make a world of difference.

The bright glow of upgraded lights will help when you rummage through your trunk in the dark.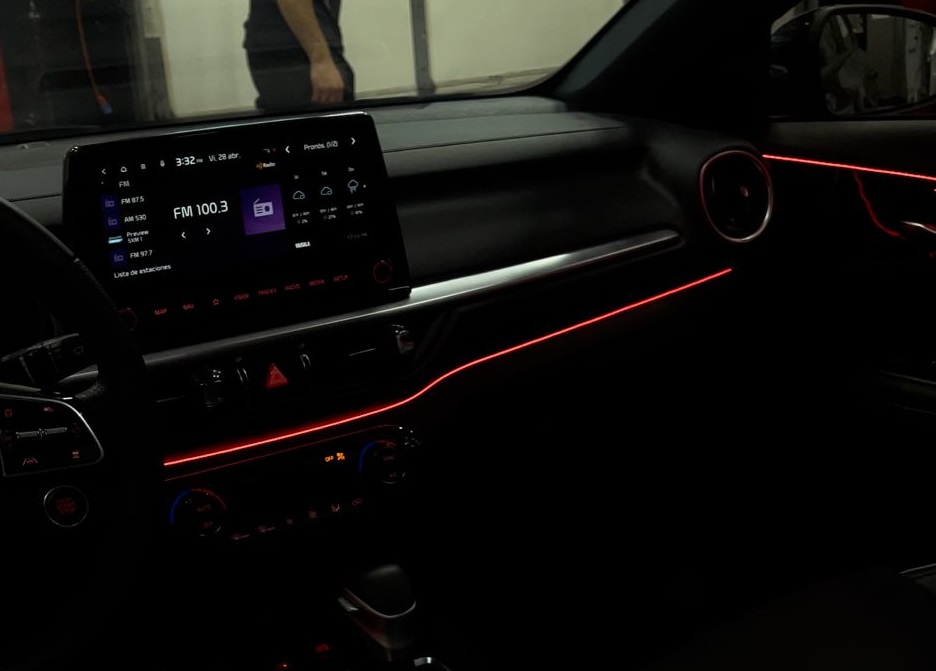 While the rest of the interior lights are relatively standard in their offerings, car accent lights are more varied. As such, you may encounter more product options when you look for car accent lighting. 
The most important consideration to make is power. Many LED lights for car interiors are either 5V or 12V. If you need some advice about power draw, cable management, or interior car light installation, you can have the professionals at ProCarSound&Security handle the work for you. 
Another consideration is the lighting your LEDs offer. While LEDs have no problems displaying various colors, the range of the colors provided is not the same. Cheaper units may show 20 distinct colors, while more advanced systems allow you to choose from millions of hues. 
Lastly, you should note how you'll control your car's interior lights. Depending on the kit, you'll be supplied with a small remote or the ability to use a smartphone app.
Install Lights For Your Car's Interior
If you are looking to upgrade your car's interior lighting and live in the Boston area, let ProCarSound&Security help you. We offer many interior customization options, such as car stereo system installations, window tints,  car soundproofing, and more. 
If you have any questions or would like to schedule an installation, please don't hesitate to contact our team.